The OPTIFAST® Weight Loss Program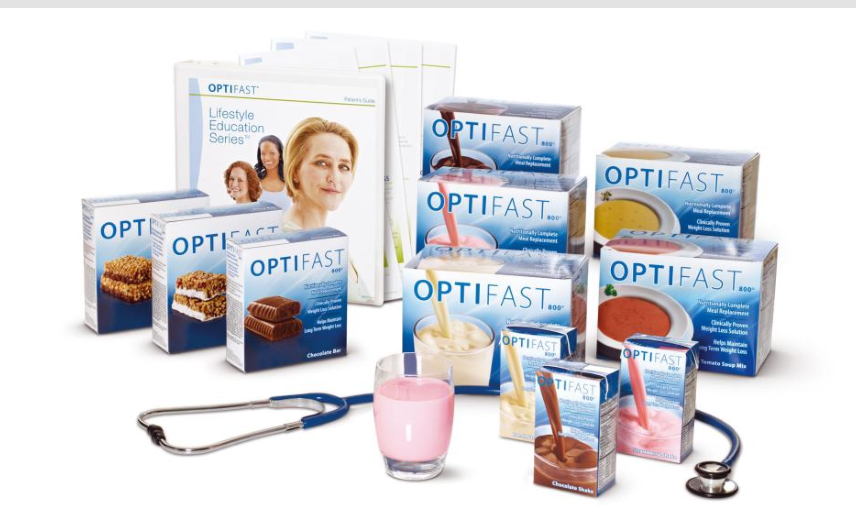 What is OPTIFAST?
OPTIFAST is a comprehensive medically supervised weight management program that allows you to lose weight quickly and safely through full and partial meal replacement products. The program, which typically lasts more than 18 weeks, focuses on medical supervision, lifestyle education, and ongoing support to help you lose weight and keep it off over time.
What makes OPTIFAST different?
• Proven Benefits
OPTIFAST, founded in 1974, was the first program of it's kind and is backed by a documented history of success in over one million patients worldwide. Since it's inception, there have been more than 80 published studies validating the results of the program, including an average weight loss of 52 pounds in 20,000 patients. In follow-up studies at five years, over 45% of patients were able to keep enough weight off to improve their overall health long term.
• Medical Supervision
Medical monitoring provides you with the ability to work with weight loss doctors who will provide you with a personalized, dedicated, and well-rounded weight loss plan tailored to your needs and goals. While on the OPTIFAST program, your progress will be monitored on a weekly basis to ensure a proper balance of steady weight loss and continued health. Because we understand that obesity is a chronic medical condition that may require the expertise of a variety of medical professionals, our staff is committed to working closely with your primary physician if necessary to successfully manage your health.
• Ongoing Support
The OPTIFAST program offers continued support through medical monitoring and lifestyle education to help you learn to maintain your weight loss over time. We realize weight management can be a difficult ongoing process, which is why we provide you with the necessary tools for success including: educational materials, one-on-one counseling, customized nutritional and activity plans, and peer support from current and past OPTIFAST participants.
• Balanced Nutrition
OPTIFAST products have been developed to provide complete, balanced nutrition with exceptional quality by Nestle. When used as directed, the products offer 100% of the recommended intake for protein and all essential vitamins and minerals. Because all of your nutritional needs will be met each day while on the OPTIFAST meal replacement program, additional supplements and/or diet pills are not necessary.
OPTIFAST & Weight Loss Surgery
If you are considering weight loss surgery or are scheduled for a procedure, talk to your physician about the benefits of pre/post-surgical use of OPTIFAST. The use of OPTIFAST products before and after surgery benefits the patient by reducing the risk for complications during surgery, decreasing the length of hospital stay post-op, and even results in an increased weight loss the first year following surgery. In addition to OPTIFAST products, OPTISOURCE supplements have been specially designed to meet the nutritional requirements of post-weight loss surgery patients.
While weight loss surgery can be costly and present complications, in addition to significant recovery time, the OPTIFAST program offers a low-risk, low-cost alternative to surgical weight loss procedures.